Well, hello there again! It's Brittany from Sew Very Lovely bringing you another tutorial that will work for all ages, sizes, and for any season. Today we're going to dive into how to make a tulle skirt. Tulle skirts were on the rise in the early 2010s mainly due to Carrie Bradshaw fanship and, of course, Pinterest OOTDs. Gorgeous, full tulle skirts for every season and occasion. In 2022, the obsession with tulle hasn't slowed down but the style of the skirt is a sleek, toned-down version of the tulle skirts that took over the internet a few years ago. Here's how you can create your own!
Supplies to Make a Tulle Skirt
Measuring Tape
Pen, paper to write down your measurements
Tulle
Lining fabric of your choice (I chose a contrasting satin)
1 inch elastic band
70 needle
Scissors (or rotary cutter and mat)
Coordinating thread
Pins
Sewing Machine (I use the BERNINA 590 E)
Reverse-pattern Foot #1D
Designing Your Skirt
Start by determining how you want to design your tulle skirt. Do you want a tier? Do you want it one length? Fuller, or less full? High-waisted or with a regular waistline? This will determine the amount of tulle that you need to purchase for your project. I decided that I wanted a high-waisted skirt that was less full with a lower tier. After determining the design of your skirt, it's time to take measurements.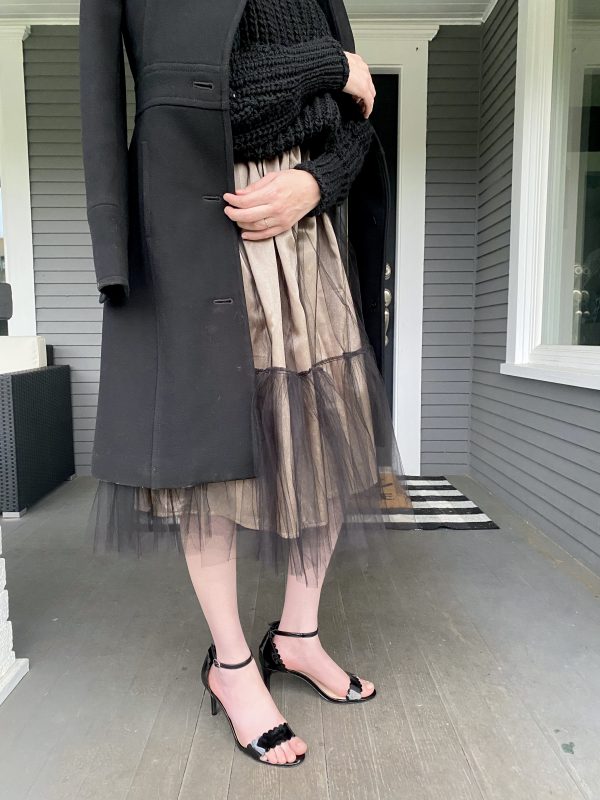 Determining Measurements
First, measure at your desired waist placement (ie high waist or natural waistline), write it down. Then measure from your desired waist placement to the length that you want your skirt. This will be the total length of your skirt. If you want to add a tier, measure from your desired waistline to the spot where you want the seam line of your tier to hit, jot down the measurement, and subtract the full length by the length of where you want the tier to begin in order to determine the length of your tier (Full length – length where tier begins = length of tier). Now we need to do a little bit of math of with these measurements!
Fullness
You can also play with fullness and create as much volume as you want. You need to double your waist measurement but can also triple it for a fuller look. Example: Waistline x 2 (or 3) = width of skirt. If you add a tier, just make sure that you triple or quadruple the width of your doubled or tripled waistline. Example: With of skirt x 3 (or 4) = width of tier. For example, I tripled my waistline measurement because I wanted a full looking elastic band and quadrupled the lower tier.
Layers
Layers will also contribute to the fullness and how much fabric you will need. The more layers you have, the more full it will be. I used three layers to keep it on the less full side. Your layers will be the width of the fabric and the total length of the skirt.
Now we'll use these numbers to calculate how much fabric you will need based on your measurements, design, and amount of layers. I used roughly 8 yards of tulle and 1.5 yards of satin lining for my tulle skirt.
Note: Don't forget to include seam allowances and extra length for an elastic casing into your measurements. I added 2.25 inches to the length for a 1 inch elastic and .5 for a seam allowance for my tier. I added a .5 seam allowance to the width of each of my pieces.
Steps to Make a Tulle Skirt
Step One
Now that you have your measurements and design in mind – it's time to cut your fabric and sew it all together! Divide your width measurement in half to create two rectangles: skirt front and skirt back. Then add 2.25 inches to the length for an elastic casing for a 1″ elastic band and add your desired seam allowance to the width. I used a .5 inch. Below are examples of how to determine the width and length of your skirt front and skirt back. Now cut out your rectangles to size.
Example for Skirt without Tier
Width of Skirt (84) / 2 = 42 inches Total Length = 34 inches
Width of Skirt (42) + .5(2) = 43 Length (34) + 2.25 = 36.25
W = 43 L = 36.25
Example for Skirt with Tier
Width of Skirt (84) / 2 = 42 inches Length to seam line: 25 inches
Width of Skirt (42) + .5(2) = 43 Length (25) + 2.25 + .5 = 27.75
W = 43 L = 27.75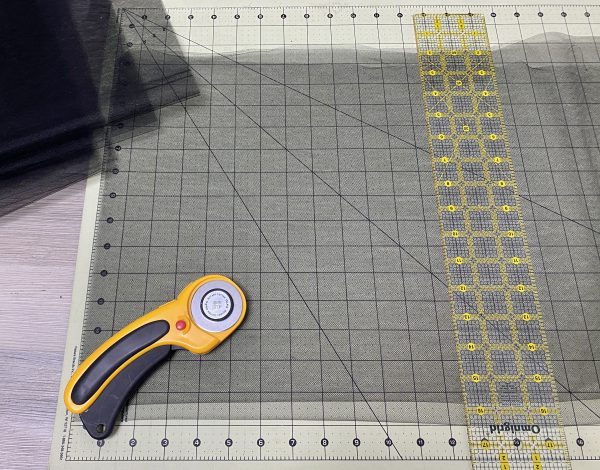 Step Two
Sew the side seams of the skirt and trim the allowance to .25 inch. If you've decided that you don't want to add a tier to your skirt, skip to step seven.
Tip: Use the Dual Feed function when sewing with tulle. It'll glide through the machine seamlessly. Also – set your stitch length at 1.8 for a nicer-looking stitch.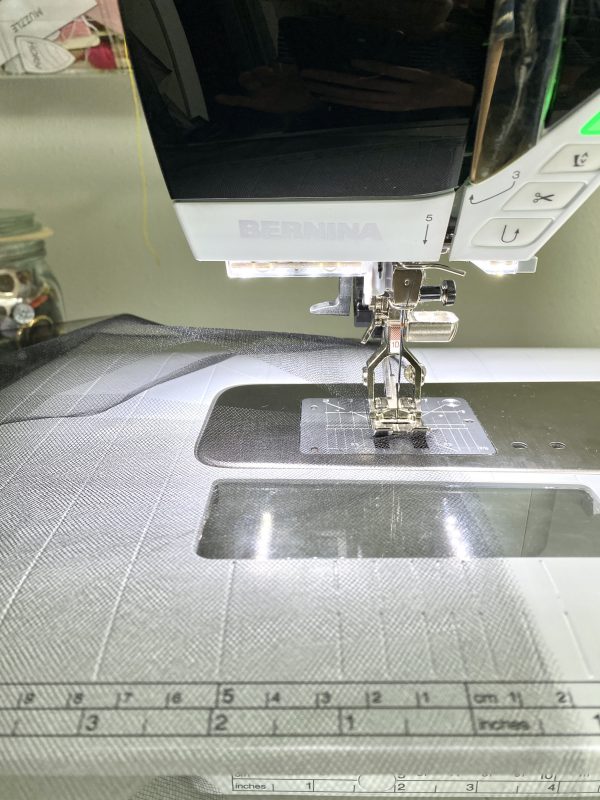 Step Three
If you've decided that you want to add a tier to your skirt, we'll need to calculate our dimensions and the amount of pieces we will need for our tier. To do that, we will need to determine the width of the fabric and the overall width of the tier. Follow the example below to find your dimensions.
Example for Tier
Width of skirt (84) x 4 = 336 inches Total length of skirt (34) – length to seam line (25) = 9 inches
Width of tier (336) + .5(2) = 337 inches Length of tier (9) + .5 = 9.5 inches
W = 337 L = 9.5
For my skirt, the width of the tier is 337″ and the length is 9.5." To calculate the amount of rectangle pieces we will need, we divide the width of the tier by the width of fabric. See the following example:
Width of Fabric = 55 inches
Width of tier (337) / width of fabric (55) = 6.12 pieces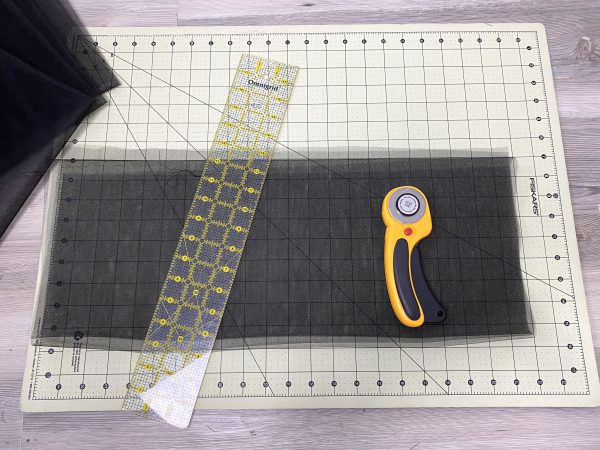 Step Four
Now that we've determined and cut out our tier pieces, it's time to take them to the machine! Attach each piece right side facing at the side seam.
Step Five
It's time to gather! Lengthen your stitch to about 4 and start your first row of basting stitches a quarter inch from the edge of the fabric. Next, do another row of basting stitches a quarter inch from the basting line.
Tip: Use a bright or highly contrasted thread while basting in order to easily spot your basting stitches when removing them later.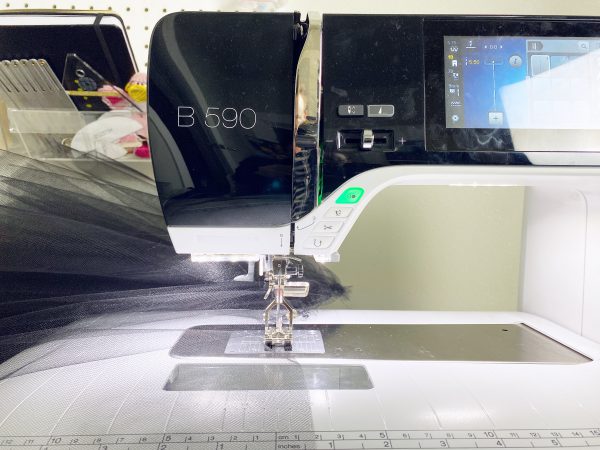 Step Six
Gather your tier to fit the width of your sewn skirt front and back and pin to the bottom of the skirt. Attach the ruffled tier to the skirt and finish the seam with a zigzag or serger-like stitch. Carefully remove the basting stitches around the ruffle.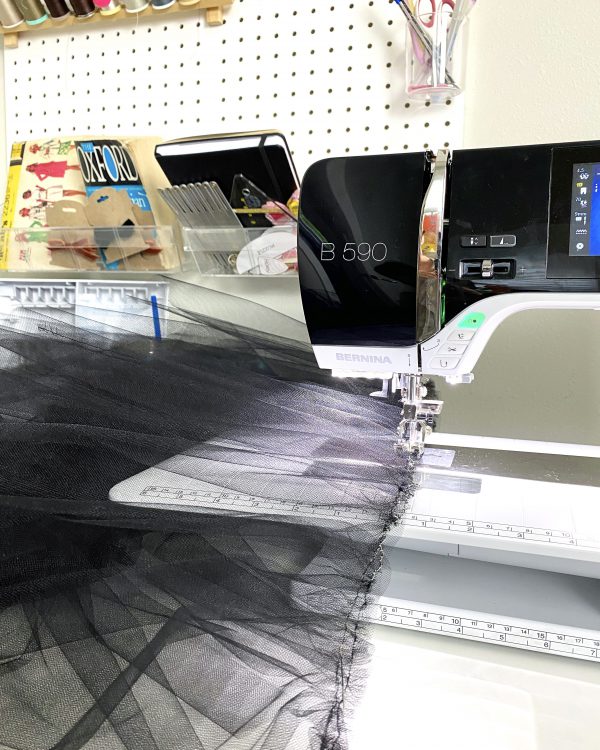 Step Seven
Cut and sew together your layers at the side seam. To determine your width and length for the skirt front and skirt back, use the calculations in step one, without a tier. Repeat as desired.
Step Eight
Repeat the same process as step seven for your skirt lining.
Tip: If you're using a satin fabric, do a French seam. Not only is it great for longevity and avoiding fraying down the line, but it also creates a high-end finish for your skirt!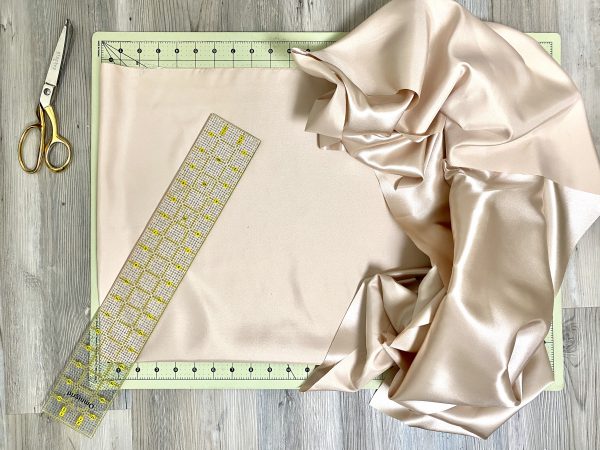 Step Nine
Insert the lining, layers, and outer layer together. Paste the top of the skirt together.
Step Ten
Now we're going to create an elastic casing. Fold over a quarter inch from the top and iron. Then fold over 1″, iron, and pin. Please see tips on how to iron tulle.
Tip: Fron on the lowest setting with a cotton fabric over the top so the tulle doesn't melt with the iron. If you're unsure, test a spot on a scrap piece of tulle and practice before ironing your skirt. You don't want to accidentally melt your hard work!
Note: If you don't like elastic casings, you can always gather the top of the skirt and stitch it to an elastic waistband or, if you want, you can also create or draft your own waistband from leftover satin/tulle. Be as creative as possible and personalize your skirt however you would like!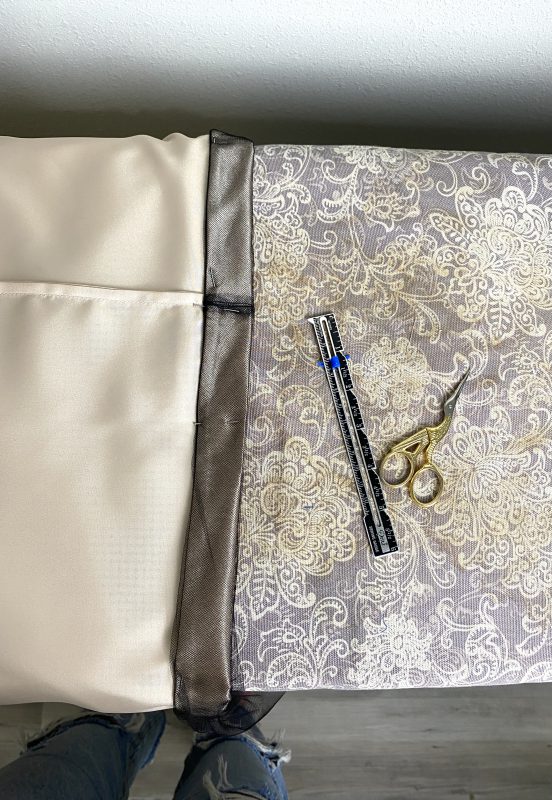 Step Eleven
Take the skirt to the machine and sew the casing, leaving a gap width to insert the 1″ elastic through.
Step Twelve
Take the elastic and wrap it around your desired waist placement and overlap about an inch. Cut the elastic. Then we'll insert the elastic with a bodkin or safety pin into the casing. Once the elastic is inserted, stitch the elastic together with a 1″ seam allowance and close the casing.

Step Thirteen
Hem your lining and now you've got a completed skirt!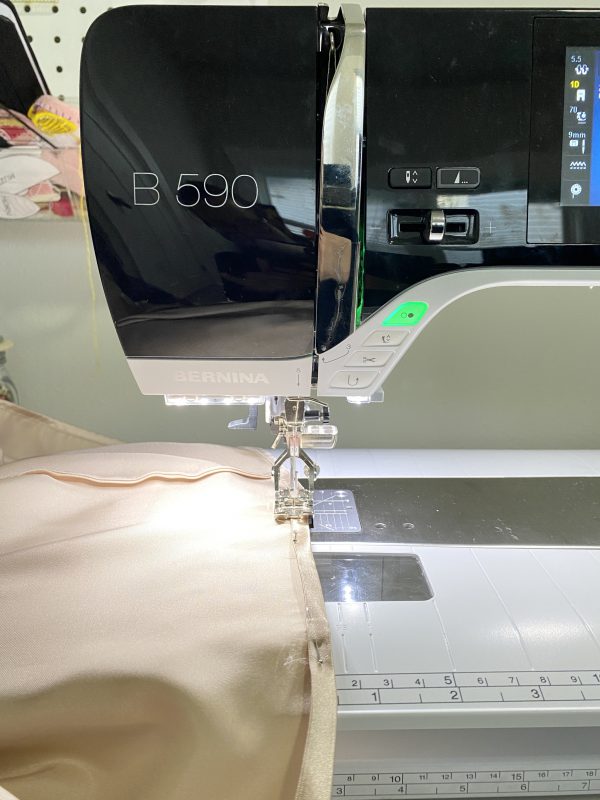 That's it! You've officially made your very own skirt, designed by you! We would love to see how you've created your tulle skirt based on this tutorial and how you've made it yours! Don't forget to tag us @berninausa on Instagram so we can see your amazing creations. Happy sewing!
Brittany